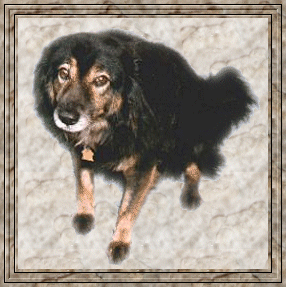 Hi! I'm Bandit, as you can see from the title up there. I came to my home from the Sterling Animal Shelter, on March 17th, 1990, when I was 8 month's old. This picture was taken in 1999. You can see that my beard was getting pretty white. My mom thinks it's cute, though. She's pretty nice and wanted to show me off, so here I am. I don't like having my picture taken much, but I put up with it cuz I love her.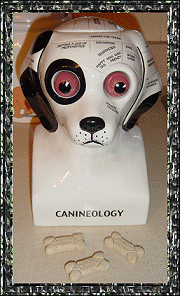 Danny gave her this cookie jar for me. Isn't it cool?! I love it....not because it's always full of cookies or anythin'...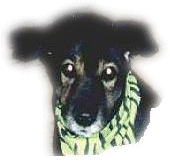 Here I am in the summer of 2003, right after my haircut. Cindy took me for it. She always does, when she watches me, so I look handsome when my mom gets home. Like my new bandana? I love them!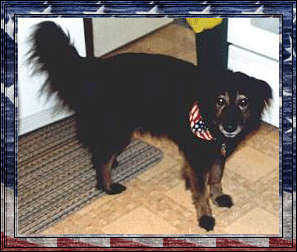 Here I am on the 4th of July, 2002. I'm very patriotic!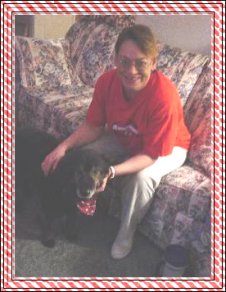 Here I am at Christmas time in 2003. This was a friend of my mom's. Her name was Judy. I'm sorry to say, that she went to Heaven on March 5, 2005. You can see her memorial, if you click on our picture.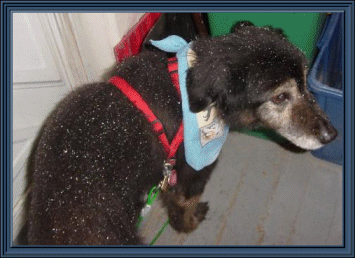 No...it isn't dandruff! It's the first snow of the season, November 12, 2004. It was only the beginning....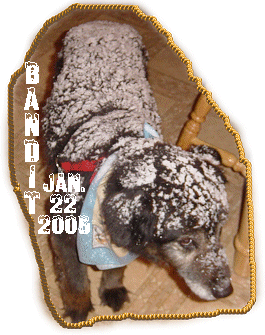 Now THIS was SNOW!!! I love it, but my arthritis doesn't....ouch!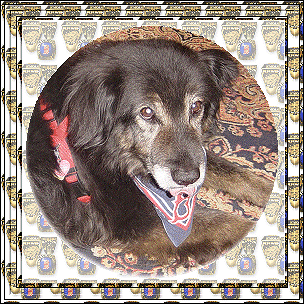 Hey Yankees....who's your daddy NOW?!? (hehehe)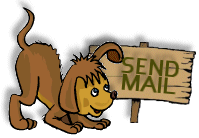 Here are some poems my mom wrote about me.




My Furry Little Guy

As I went to leave the house today

My favorite little guy

Pleaded with his eyes so brown

I can't come? But, why?

Don't look at me that way I said

You know I won't be long

He cocked his head and just stared back

Looking so forlorn

I'll be right back I promise you

As I went to shut the door

He dropped his head and moped along

Across the kitchen floor

I turned the key and as I did

My heart knew what to do

I couldn't leave my little guy

His heart knew me well too

I cracked the door and he looked up

Then out the door he ran

He rushed right past and as I smiled

He jumped into the van

He sat so proud and happy

He seemed to don a smile

How could I leave my little guy

Even for just a while

© 2000 By Susan L. Anderson


Watch That Paw!

I got ready this morning

To go for a ride

Grabbed a bottle of water

And a bowl, in my stride

He hoped as he watched

Water? Well, maybe

A bowl? Ooh, I hope so!

There's the nod, c'mon baby!

Want to go for a ride?

I didn't have to ask twice

He was jumping with joy

Wow! That would be nice!

He jumped in the van

And sat next to me

Looking as happy

As he could be

I opened the window

And he rested his paw

The window was closing!

Watch out for your jaw!

Whew! He made it!

He moved his head just in time

Then looked at my window

What happened to mine?!?

Silly boy, I said

Gotta watch that paw

I reopened his window

And he watched his jaw

© Susan L. Anderson



Well, you've finally reached the end. I hope you enjoyed my page as much as my mom enjoyed making it and please  be sure to come back soon!



Thank you for rescuing me and finding me a great home!

You can click here if you                        wanna hear me bark again.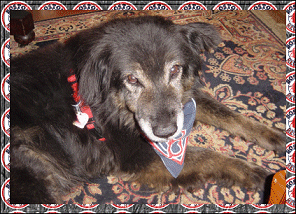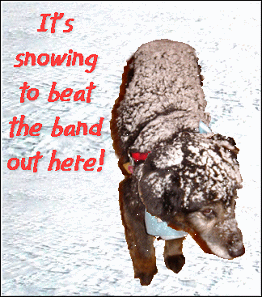 March 6, 2006

Sadly, I must let you know that we had to say our final good-byes to Bandit today. He was 17 years old, very deaf, was going blind and was filled with painful arthritis. The vet also found either a tumor growing inside him or fluid was building up around his poor old heart or liver. He was in a lot of pain and even though he was trying to be brave for us, we had to let him move on to the Rainbow Bridge, where he can be young again, romping and playing with all those who have gone before him.

God bless you ol' boy. We love you and miss you.

With Love Forever,

Your Loving Family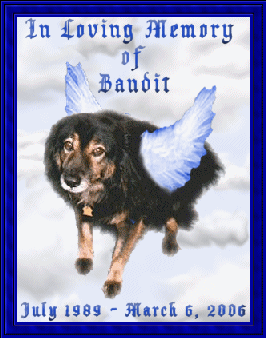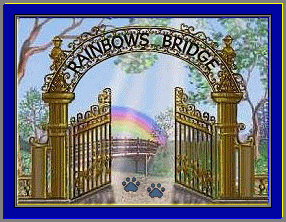 Click on the Rainbow Bridge to visit Bandit's Memorial page at Find A Grave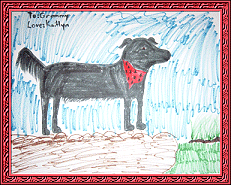 "Bandit" by Kaitlyn

April 16, 2005